Make your PD Days – A PLAY Day!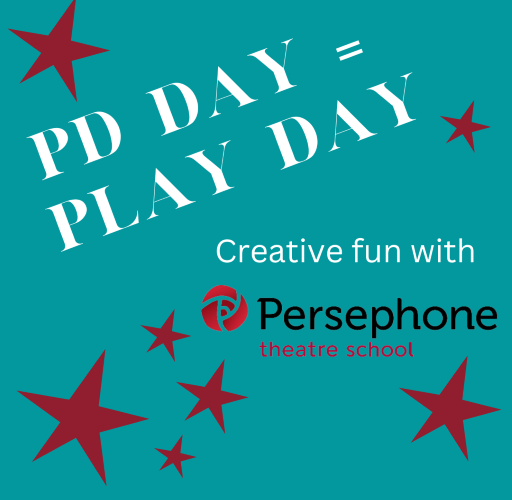 Persephone Theatre School has the perfect way for you to spend your next PD Day! 
Join us for our one-day creation programs!
Two age groups 5 to 8 years and 9 to 12 years
Drop off starts at 8:30 am
Program runs from 9 am – 4 pm
All sessions include music, movement, theatre games, storytelling, and a visual art element such as a prop or costume creation.
Everyone is welcome & experience is not necessary!
All is you need is yourself and a lunch and snacks.
One PD Day $50.00
Register for multiple PD Day events OR if you are a current Theatre School Student you can SAVE 10%  –  $45.00 per program
NOVEMBER 14th – Theatre is MAGIC!  –  Imagination and fantasy combine as you join us for a day inspired by the mystical worlds of Fablehaven, Harry Potter, Magic Tree House and more!
DECEMBER 9th – Theatre is a GIFT!   –  Inspired by ELF the musical, have a sparklejolleytwinklenjingley good time celebrating our own unique gifts and learning some fun new skills!
JANUARY 23rd – Theatre is COOL! –  Frozen, The Mitten, Snowday – Explore and recreate some of the amazing "winter" stories that entertain and inspire us!
MARCH 13th – Theatre is a SHOW!  –  Under our "bigtop" inspired by the music from the Greatest Showman, everyone belongs, and we act our adventures out loud!
MAY 5th – Theatre is GROWTH! – A day inspirated by spring and the Lorax.  We will plant story seeds, creating with the natural elements around us.
JUNE 5th – Theatre is OUT OF THIS WORLD – To infinity and beyond, the possibilities are endless as we reach to the "stars" and the world of science fiction for inspiration.